My daughter is finally off to college this fall. I'm freaking out. She is so excited to have her own space and I am happy to help her make useful furniture choices. She has to realize whatever moves in, has to move back out again. Things should be practical but also keep her individual style in mind. This stuff needs to last multiple moves. Here are a few items to make her happy but also keeping things organized and stylish.
Ikea is your friend. They have great furniture for small spaces at an affordable price. You don't need to go nuts but a few key pieces can change up the feel of a boring dorm room.
Stackable storage bins are great for hiding clutter underneath beds and stacking for additional shelving.
Bed Risers are a genius way to give your bed that extra space. Store items you may not use every day so they are tucked neatly away.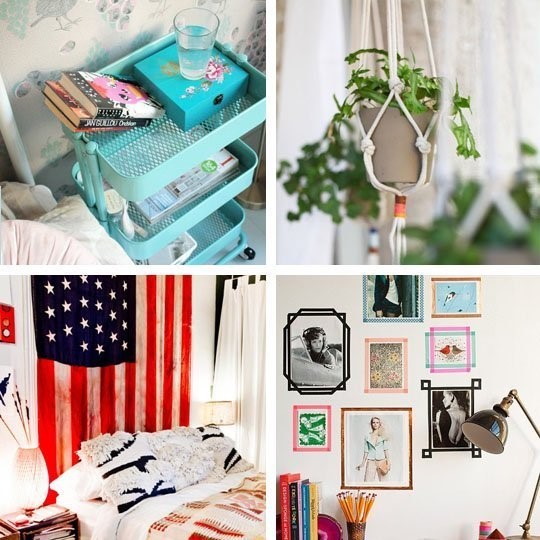 A multiple layer rolling cart can be converted into a bed side table for personal storage and style.
Add some plants to brighten up that boring and dull room. Set on the windowsill or hang in a corner where they will get plenty of sunlight.
Express your own individuality with wall hangings, picture frames and unique bedding. Toss pillows are easy for a pop of color.
Patterned duct tape is an easy way to frame out a picture without putting holes in the wall.
If you have a small space, the answer is to go up. Floating shelves above your desk add room for all of your school books, boxes and even knick knacks.
Choose lighting that has character and illuminates your area like a desk lamp. Change to hanging lights for a soft glow at night.
Use clipboards, pin boards or a dry erase board to keep track of your busy schedule.
Keep aside a few folding chairs for easy seating for company. This eliminates friends laying all over your bed.
Colorful curtains add a feminine touch while blocking out the light on days you get to sleep in.
Throw down an area rug to warm up your feet on colder nights and add warmth to your room.
Bookcases are not only for books. Arrange shoes and accessories for a display and organized glam area.
Try making a DIY headboard. Cut out the shape you want on cardboard and cover with a fun fabric. This will be easy to move and is easy to change out if you grow tired of the design.
Have fun and express yourself in your own style. Be the nerd, trend setter or classic girl that you are.