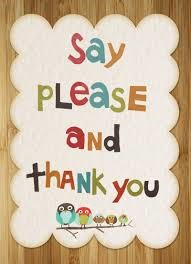 Teaching your kids to say "Please" and "Thank You" is not just teaching them manners but is also a way to teach them respect and how to get along better with others. It is important to start teaching them manners from the very start. Teaching them to say "Please" is showing them the best way to get what they want. Teaching them to say "Thank You" shows your kids the best way to end a conversation.
One creative way I have experimented with to teach my kids manners is to host a pretend tea party. I write invites ending with please and attach a response card that already has the words thank you imprinted. During the party, they must say those two important phrases in order to get goodies and say thank you after receiving them. It's a start and a fun time.
Another way to reinforce and help teach your children to always use manners is to make a bead ribbon. I hang a long ribbon on their door, and then whenever they say please and thank you without being prompted, I add a bead onto the ribbon. It is important to reward positive behaviors.
I love art and crafts projects so I incorporate please and thank you into a craft. I buy large felt letters and have them glue the words "PLEASE" and "THANK YOU" on construction paper. Then they cut out pictures from magazines that match the words. Depending on the age this craft can vary. You can google how to say these words in all different languages and write those on the poster or add an acrostic puzzle.
Keep in mind that from the time a child begins to speak they copy what they hear. It is important to always use please and thank you in order to impress the importance onto your child.